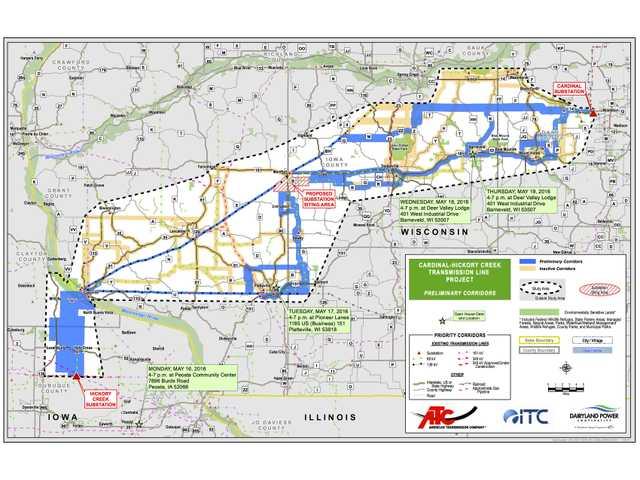 Stated Purpose:
The 125 mile, 345 kv line would connect northeastern Iowa and western Wisconsin, helping to improve reliability in the local area and the region. The line will work in combination with other Multi-Value Projects in the region, with the added transmission capacity aiding new renewable energy projects in connecting to the electric grid.
Line Capacity:
345 kV
Route Description:
The line will begin at the new Hickory Creek substation in Dubuque County, Iowa and would then travel to east to connect with the Cardinal substation in southwestern Wisconsin.
Development Timeline:
The developers are currently engaged in public outreach efforts, and plan to file applications with state regulators as early as 2018. They anticipate construction to begin in 2019 or 2020, with the line going into service in 2023.
Regulatory Process:
In both Wisconsin, the developer must file for a Certificate of Public Convenience and Necessity from the Wisconsin Public Service Commission (PSC). The developer plans to file with the PSC some time in 2016. Applications with Iowa regulators will likely follow the filings in Wisconsin.
Additionally, the project will have to seek federal approval with the US Fish and Wildlife Service, Rural Utility Service, and the Army Corps of Engineers due to the project crossing the Mississippi River.
The USDA Rural Utility Service (RUS) began hosting a series of meetings in Iowa and Wisconsin in late October and early November 2016 to take public comments on the project.
Developer:
American Transmission Company (ATC)
ITC Midwest
Community Feedback:
The developers held community meetings in fall 2014 in Wisconsin to provide information about the project and receive input from local communities in the project study area. Concerns range from the visual impact, the possibility of pursuing alternatives to the new transmission, and the effect on rates that new infrastructure could have.
The city council of Dubuque, IA voted to oppose the line, noting that having the project come through Dubuque would violate city code, and claiming that pursuing a route through the city would not be in the public interest.
Project corridors were refined after open house meetings in May 2016. The developers will continue to refine these corridors to produce several routing options.
The Driftless Area Land Conservancy and Environmental Law and Policy Center voiced concerns over possible habitat disruption and the introduction of invasive species that could result from the project.
Clean Energy Potential:
The Cardinal-Hickory Creek project will connect to other Multi-Value Projects in Iowa and Wisconsin, providing greater access and capacity for renewable energy in the region.
News Archive:
Towering transmission line in western Wisconsin sparks questions over need and nearly half-billion-dollar cost April 20, 2018
Southern Wisconsin lawmakers urge scrutiny of high-voltage power line April 10, 2018
Preferred route for transmission line picked February 21, 2018
A favored route is picked for a high-voltage transmission line from Middleton to Dubuque February 21, 2018
Power Companies Announce Route For Cardinal-Hickory Creek Line From Madison To Iowa February 20, 2018
Battle lines widen as plans progress for high-powered transmission line between Madison and Iowa July 23, 2017
Proposed Wisconsin Transmission Line Splits Environmental Groups In Midwest June 14, 2017
Wisconsin power line pits green interests against each other June 11, 2017
Proposed Middleton-Dubuque transmission line is up for public meetings this week October 31, 2016
Scientific scrutiny September 29, 2016
Plan refined for Iowa-Wis. power line September 27, 2016
New high-power transmission line turning heads on proposed route May 17, 2016
Transmission line plans call for Cassville crossing, not Dubuque, Guttenberg April 27, 2016
Transmission line project between Iowa and Wisconsin gets more support January 25, 2016
Dubuque, Cassville, or Guttenburg? Transmission line routes considered August 16, 2015
Council members back city staff in opposition to transmission line June 15, 2015
Dubuque: No to power line June 14, 2015
Transmission line proposed October 16, 2014
Residents flock to public meeting on proposed Middleton-Dubuque transmission line October 10, 2014
Electrifying decision: Finding a route September 17, 2014
Public meetings scheduled on proposed Middleton to Dubuque transmission line September 15, 2014
ATC, ITC announce public open houses for Wisconsin portion of Cardinal-Hickory Creek Transmission Line Project September 15, 2014
Your Thoughts:
We all know that clean energy transmission is vitally important to our energy future. It brings economic opportunity to rural areas, enables wind development and improves the reliability of your grid. But to build it properly - to create projects that work best for you and your community - requires your knowledge and participation.  That's why we've created this database.